Outdoor Lighting Hire
Our range of exterior IP rated lighting is perfect for outdoor events and for lighting up buildings.  All the equipment is connectable via IP rated cables for both mains power and DMX data.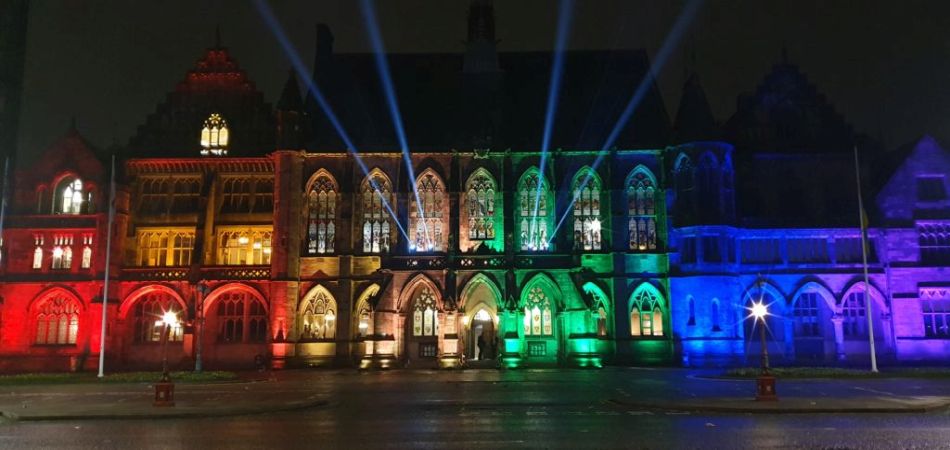 18T3 Spectra Flood – 54-watt RGB
LEDJ Spectra Floods are perfect for feature lighting, providing colour wash effects to the outside of buildings. Signage and facade features can also be illuminated along with landscape applications. Simple daisy chain connection of power and DMX means that installation time and cost is reduced.

– 18 x 3W tri-colour LEDs (RGB)
– Beam angle: 40°
– 2,150 Lux @ 2m (full on)
– 7.8kHz refresh rate
– DMX channels: 1/3/4/5 or 6 selectable
– Static colour, colour fade, colour change, auto and master/slave modes
– 0 – 100% dimming and variable strobe
– 4 push button menu with LED display
– IP rated power input/output trailing connections
– IP rated 3-Pin DMX input/output trailing connections- Power consumption: 65W
– Power supply: 100~240V, 50/60Hz
– IP rating: IP66
– Dimensions: 225 x 325 x 192mm
– Weight: 4.5kg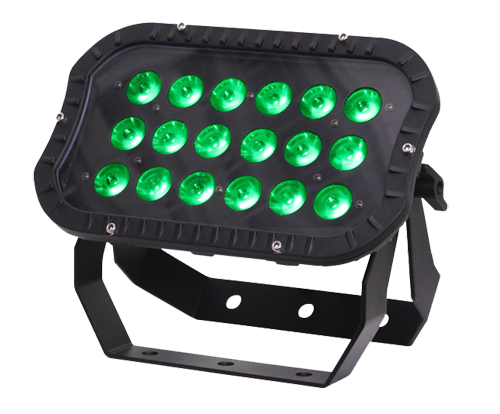 SGM SixPack
The SixPack is a unique pixel array with individual DMX control over each RGBA LED. It comes with a narrow and bright beam angle to work as a blinder for long distances, but it is also a very powerful pixel fixture that can be rigged in almost any orientation. It can be used as a regular LED bar, a spotted downlight for backdrops, a front limelight for outdoor application, a very tight backlight for actors, or a decorative light scenery element. The SixPack is a flexible and adaptable LED luminaire for multiple creative applications.

Lens -13° fixed
Lightsource – 6 x 40W RGBA LEDs
Pixel Pitch – 120 mm
---
Photometric
Beam angle(s) -14°
Color temperature range – 2000K – 10000K
Light output all LEDs on – 5027 lm
Light output amber – 1434 lm
Light output blue – 584 lm
Light output green – 1825 lm
Light output red – 1719 lm
Lux @ 10m – 464 lux
Lux @ 5m – 1858 lux
Maximum Field Angle – 32 °
---
Physical
Color – Black – RAL 9004
IP class – IP65
Net dimensions – 750 x 107 x 175 mm
Net dimensions inches – 29.5 x 4.2 x 6.9 inches
Net weight – 11 kg (24.3 lbs)
---
Features
Dimming
Electronic
Emulation mode / effect
Tungsten response emulation
LED panel
6 individually controllable segments
Strobe
Ultra-high-speed strobe effects
Tilt – 110°
---
Electrical
AC power, max.
90 – 264V 50/60Hz
AC Power, nominal
100 – 240V 50/60Hz
Electrical Protection:
Overload protection with automatic recover
Max Inrush Current
79 A
Max power consumption
250 W
Power factor
0.97 PF (230 V)
Power Supply Unit
Auto-ranging electronic switch-mode
Typical power consumption
200 W
---
Programming and Control
16-bit control
Dimmer, Red, Green, Blue, Amber
Cabled DMX
5 pin XLR input/output
DMX channels:
6, 7, 18, 22, 24, 28, 48 or 53
DMX modes – 8
Protocol
USITT DMX512A
RDM ANSI E1.20
Setting and addressing
OLED graphical display / 4 buttons
RDM ANSI E1.20
RFID
Standalone mode
Quick Color
Standalone mode programmable via RFID
Up to 24 programmable scenes
---
Connections
DMX data in/out
IP65 XLR 5-pin cable 0.5m
Power
Power input connector & link-thru