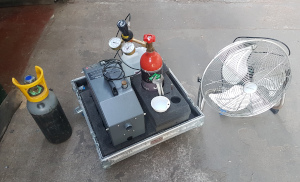 Manual push button remote control on XLR Extension (Not DMX).
18 inch High Velocity Fan supplied
Click to add this item to cart.
Product Description
The Pea Soup Phantom Hazer quietly produces a barely visible atmospheric haze until light passes through it, which is perfect for large volume lighting and laser effects.
With a tiny haze particle size of just 0.2 micron (mass median diameter) this precision engineered hazer is truly in a class of its own, beating all competitors' systems hands-down. The persistency of the effect means that a single generator can replace a number of conventional hazer systems, producing a beautifully even haze with an incredibly long hang time.
The whisper quiet maglev fan is independently switched, and so the unit is equally capable of producing ultra smooth low output haze or large volume smoke effects if required.
Fluid consumption at haze output can be as little as 0.2 litres per 8 hours, so running costs compared to conventional hazers are dramatically lower. Phantom Hazer fluid is of medical grade which gives a superior effect to that of the now old fashioned "oil cracker" units. Oil crackers also leave a messy oily residue on surfaces and can cause respiratory problems with some people. Our Phantom Hazer is a far superior precision engineered unit offering complete control, no residue deposits, over 95% reduction of airborne haze fluid compared to conventional water based smoke machines fog or hazers, a 100% continuous duty cycle and extremely high levels of reliability and efficiency. The Phantom Hazer is truly the ultimate haze generator for the discerning user.
Manufacturer's link:
Lighting Hire: Manchester, Greater Manchester, Cheshire, Derbyshire, Yorkshire, Staffordshire and other cities on quotation.