Site Power /  Outdoor Events

We can provide site power for outdoor events for example Christmas Markets and outdoor stalls at music festivals. 
We work closely with you to design, install and commission a site power solution.  We will determine power requirements, site layout/cable runs, generator locations and public safety within our design.
Generators from 10kva through to 200kva are available with additional 1000-Litre fuel tanks if required.  Backup generators can be provided with auto switch over.
Distribution boxes are available from 125A 3-phase input down to smaller 32A single phase units.
We can also undertake the PAT Testing of traders equipment brought to site – items such as extension leads, water urns, lights, heaters etc.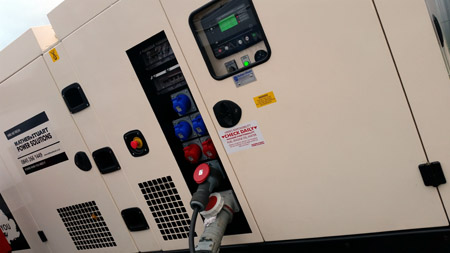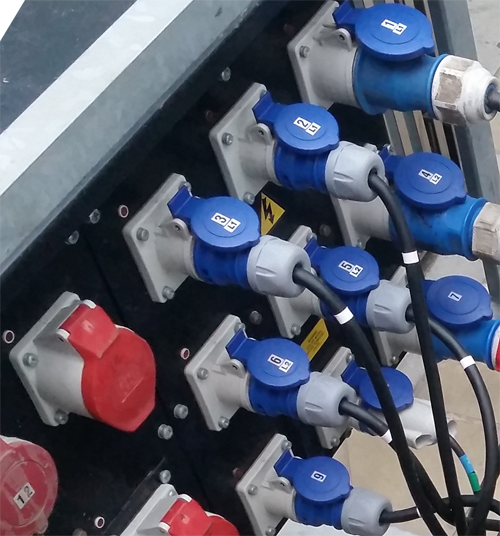 Distribution Units & Cable
We can provide 3-phase and single-phase power distribution for outdoor events with generator supply through to smaller indoor events.
Our stock includes the below units:
63A 3-Phase Input
Rubberbox – 3x 32A and 12x 16A Outlets (all single phase outlets)
Rubberbox –  1x 63A, 4x 32A, 2x 16A and 2x 13A (All single phase Outlets)
63A Single Phase Input
2x 32A and 2x 16A Outlets
32A Single Phase Input
PCE Cubes: 32A Thru, 4x 16A Outlets
Cable
We have stock of following mains cable:
63A 3-phase
63A Single phase
32A Single phase
16A Single Phase various lengths from 1m > 50m
Socapex 2.5mm – 15m, 30m, 50m
Socapex 1.5mm – 15m, 30m, 50m
Socapex – 6x 16A: Fan In & Out.
PowerCon Links: 1m, 1.5, 2m, 3m, 5m, 10m
PowerCon True1 (IP Rated): 2m and 10m
Various 16A Adapters & Splits such as 13A>16A, 16A>IEC, 16A> 4x 13A.